City of Lost Souls questions — and answers (spoilers)
City of Lost Souls: Magnus and Alec stuff. Spoilers.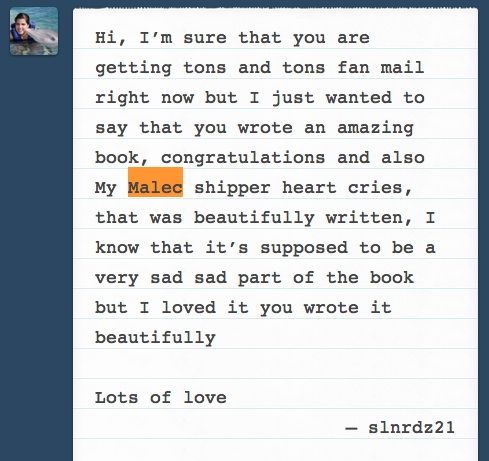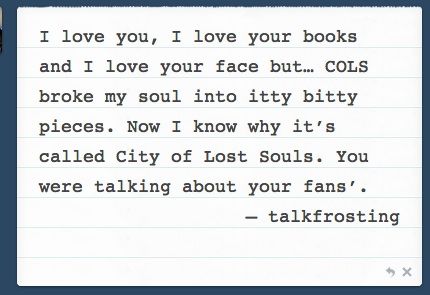 I see we may have reached the important point of Book Therapy Time.
Now probably what I can say that will be helpful is limited. It sucks when a fictional couple you love breaks up or a bad thing happens to them. I am still mad at Louisa May Alcott about Jo and Laurie and Ellen Kushner about Richard and Alec (different Alec!). But I cannot tell you if Magnus and Alec get back together or get a happy ending or both survive because those are spoilers which I firmly believe to be, along with holes in the ozone layer, to be one of the great evils of modern society.
All I can say is that I did not break up Magnus and Alec just to, like, wreck your day or make you cry. Though crying is a perfectly okay response. I am reminded of this question I got asked a while ago:
"Did Alec and Magnus break up during COFA??? I saw a gif and I was appalled. I completely missed that part. — makeawish13"
And I said:
"That is because it dd not happen! If Alec and Magnus break up, you will know. I wouldn't gloss over it — it's one of the most important relationships in the books! If they get a breakup, they deserve a fittingly epic one. After all, to quote Stephen Merritt:
If you don't cry it isn't love
If you don't cry then you just don't feel it deep enough"

So I hope at least one can say that you can't get to the end of City of Lost Souls and not know whether Alec and Magnus broke up or not. Hopefully they got a significant breakup scene and hopefully that little hint about Magnus' father (and no I cannot say who he is!) did not go unnoticed.
As for "Why?" there are admittedly better answers than "why not?" :) The seeds of this breakup were sown in City of Fallen Angels, and to an extent even earlier than that. Magnus and Alec do love each other, but as Luke says "sometimes love isn't enough." When I thought about their two characters, and carrying them forward into the future, there was no way around dealing with the mortal/immortal issue. And it wasn't something Alec had thought about - he kind of aggressively doesn't think about it in the first three TMI books, but it's exactly the sort of thing that, once a relationship starts getting serious, you wouldn't be able to avoid thinking about any more. And would then start obsessing about. Because it actually does alter the course of your future.
As for Magnus, he's intensely secretive, throughout all the books. He won't talk about how old he is or where he's from or who his father is. At first glance he's this crazy guy who throws parties for his cat, but he's actually a lot wiser and sadder and more thoughtful than that, and he keeps his secrets to himself, because they're a sort of armor. He's lost a lot of people he's loved through his life and his choice with Alec is to make Alec immortal (which he does not regard as an ultimate good - his description of it in Clockwork Prince is "We who are immortal, we are chained to this life by a chain of gold, and we dare not sever it for fear of what lies beyond the drop" which hardly sounds positive) or watch Alec die - or die himself. When you're writing about people who live forever, you have to think about what that would be like — and I think immortality, like Simon's Mark of Cain, is (to quote Florence and the Machines) "a gift that comes with a price."
In City of Fallen Angels when Alec and Magnus are arguing you can see the seeds of dissolution — Alec isn't trusting, but Magnus isn't giving him a lot of reasons to be trusting. The gap in their ages, their experience, isn't insurmountable, but a lack of trust is. In freeing Camille at the end of CoFA and lying about it, Alec had already started down a course that had to be played out, one that could only really end with them breaking up.
So I guess the answer to "Why?" is "Without a radical redistribution of trust and honesty, that relationship can't work." Could they get back together and, like a broken bone, be stronger in the mended places? Can Alec redeem himself? Can it be fixed? All questions for Heavenly Fire. 
Sorry! Well, you know. A little bit.
qtlove53 likes this
exampleold likes this
hannahjanewhitley likes this
dimue reblogged this from cassandraclare
dimue likes this
vudizmus likes this
imwakinguplaughing reblogged this from cassandraclare
imwakinguplaughing likes this
ifyourenotlost likes this
jayaduignan reblogged this from cassandraclare
fxckyeahbenschnetzer reblogged this from cassandraclare
fxckyeahbenschnetzer likes this
livingforloki reblogged this from cassandraclare
jaces--bitch likes this
stay-y0ung-at-heart likes this
mrslokistark likes this
atticusmorgentstern likes this
bloodymarmaladegirl likes this
wisegirlknowsall likes this
the-gryffindors likes this
alecdoesnotmakepie likes this
dumbledorelovessherbetlemons reblogged this from cassandraclare
dumbledorelovessherbetlemons likes this
shadowhuntingotaku likes this
kyubine likes this
lovetoreadgoodbooks likes this
embrystical likes this
releaseyourinnergeek likes this
fatalistickid likes this
fatalistickid reblogged this from cassandraclare
castielsmyfallenangel reblogged this from cassandraclare
neko-alice-yami-esme reblogged this from cassandraclare
neko-alice-yami-esme likes this
feaashleyy reblogged this from cassandraclare
feaashleyy likes this
cir-cum-am-bi-ent reblogged this from cassandraclare and added:

IF IM CRYING? YES I AM. IF MY HEART IS BROKEN? YES IT IS. Malec was my favorite OTP, like, ever. Damn it, Cassandra, if...

wut-a-duckie reblogged this from cassandraclare
wut-a-duckie likes this
futurewasme likes this
troyler-cuddles reblogged this from cassandraclare
paola-vldz likes this
immaflyinpurpleppleater reblogged this from cassandraclare and added:

The best part of this post is the gif at the end. Cassandra Clare is an evil genius.

xxkingx likes this
multifanfic likes this
nrkjx reblogged this from cassandraclare
to-kill-the-mocking-jay likes this
mymindrebelsatstagnation9 likes this
pumpkins-demons-and-skeletons likes this
odair-in-the-air likes this
flyingbluedragon likes this